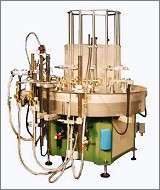 Our company was established thanks to the experience gained over time, which allows us to offer to the customer a better solution to the problems submitted, to a practical feasibility, to a focused application.

We realized that the market has a continuous evolution, it is subject to changes due to the request of services, products and quality by the side of the customer.

This has made us realize products and services, which are simple, reliable and competitive on the price. Moreover, modern technologies help us to maintain real time relations with customers directly from the office. This allows us to cut down the costs of potential advices, technical assistance and to have focused replies to customers' requests.

Our structure avails itself of specialized technical staff able to reply to the submitted problems.
Our company applies a policy based on quality, not on quantity.

We hope to be useful for you, showing you our website.